The Rogues Shanty Chorus are a unique choir who sing the songs of fishermen and sailors.
The Rogues Shanty Chorus celebrate the culture and legacy of local seafaring communities by reviving the folk music that they created in order to celebrate the musical heritage of the East Anglian coast.
The group meet and sing in Lowestoft within sight of the Suffolk shoreline, which allows our music an accompaniment of the sound of waves and the sea, with a base at the Seagull Theatre – the most easterly community theatre in the United Kingdom.
The group are one of only a few shanty choirs in the UK (and as far as we are aware the only one free to attend) and promotes the social, health and wellbeing benefits of group singing whilst expanding the sharing of Lowestoft's unique coastal, cultural and musical heritage.
The choir formed in 2015 as part of a broader coastal cultural and heritage community project designed and delivered by The Voice cLoud with an aim to explore the social and historical importance of the folk music and work songs created by the fishing and seafaring communities of Suffolk and East Anglia. The project also included school workshops, talks and demonstrations at WI groups, scouting/guiding and social groups and delivery of one-off music workshops among other activities and engaged with almost 2,000 participants.
The Rogues Shanty Chorus are a committed and passionate group who work with and within the community, producing and performing sell-out theatre shows as well as arranging and curating performances for charity eventsand other groups and services; including at older people's residential homes; care groups, school fetes and local community events and fundraisers, including for RNLI and the Fishermen's Mission.
The Rogues sing sea shanties and arias about the sea as well as whaling songs, naval songs, working songs, foc'sle songs and romantic old century tunes of ne'er-do-wells, which includes refrains of seafarers, wreckers, smugglers and murder ballads.
If you would like to join us, please get in touch.
The Rogues Shanty Chorus on Facebook
---
Funding Statement
1st September 2019: The Voice cLoud are DELIGHTED to have secured investment for the next two years to expand upon our highly popular project THE UNIQUE COASTAL, CULTURAL AND MUSICAL HERITAGE OF WAVENEY!
The Unique Coastal, Cultural and Musical Heritage of Waveney is a creative learning project which generates interest in Suffolk heritage by exploring the folk music and associated heritage created by traditional fishing communities.
The project is funded by People's Health Trust #ActiveCommunities programme using money raised by Health Lottery East which supports people to create and shape local projects that will help their community or neighbourhood to become even better. Active Communities projects aim to develop social links and ties and support residents to discuss and act on things that are important to them.
Our project encompasses several multi-generational activities across North Suffolk and Waveney. These all explore and promote the social, health and wellbeing benefits of music and the creative arts whilst expanding the sharing of Suffolk's unique coastal, cultural and musical heritage.
We are really looking forward to expanding upon this wonderful project that has seen us work with people ranging from 2 – 93 years old in Waveney over the past four years including our wonderful fishing choir The Rogues Shanty Chorus.
If you would like to find out more about this project, including opportunities to be involved, please get in touch.
The Rogues Shanty Chorus on Facebook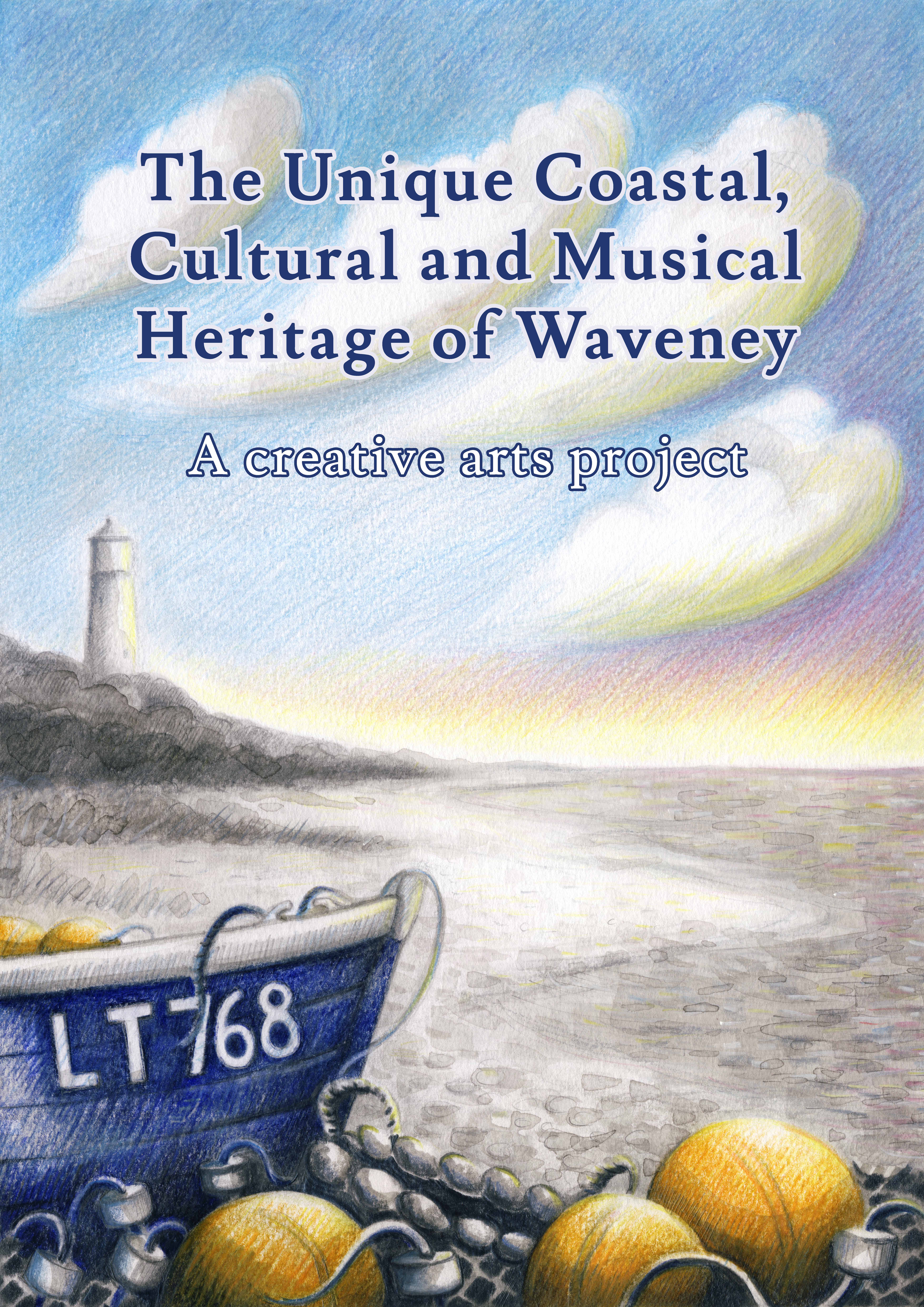 Poster illustration by Paula White.
---
Turning The Tide
You can also support The Rogues Shanty Chorus by purchasing a copy of our album 'Turning The Tide'.
Copies are £10 each with P&P £2.00 for mainland U.K.
(£2 from the sale of every album is donated to both the RNLI and Fishermen's Mission)
---
COVID-19 STATEMENT
Due to the COVID-19 pandemic, on 16th March 2020, we suspended all meetings for both The Rogues Shanty Chorus and any other meetings as part of 'The Unique Coastal, Cultural and Musical Heritage of Waveney'.
On 6th September, 2020 The DCMS (Department for Digital, Culture, Media and Sport) announced that non-professional singers can now engage in all performing arts activities, including singing, wind and brass.
UPDATE: As a result of that announcement and because The Seagull Theatre is a COVID-secure venue, we restarted physical (COVID-compliant) rehearsals for The Rogues Shanty Chorus on 13th October!
UPDATE: On 31st October, 2020 the Government announced a second lockdown across England between 5th November – 2nd December. We will closely monitoring government advice and guidelines in order to decide whether we can safely and responsibly regroup in physical rehearsals following this period.
---
Virtual online rehearsals
As a result of the Government announcement in March, the Voice cLoud were contacted by several choir members who asked if it would be possible to share something on social media despite there being no physical rehearsal; a video taken from a previous rehearsal, some song links or lyrics for a new song in order for people to still try and still sing.
So, on 17th March, we broadcast our first livestream virtual rehearsal on our social media channels from the Seagull theatre. The following week, we did the same thing but by then the government had announced that all contact with members of different households was banned so our choir leaders remotely joined into an online session from different locations (through the wonders of technology!)
We have continued to broadcast weekly sessions every Tuesday since then.
These livestream broadcast have been very popular and evolved into a kind of conversational video style broadcast with up to 12 thousand people watching in total every week tuning in literally from all the world (across East Anglia, Scotland, Manchester, Harrogate, Northumbria, London, Plymouth, Ireland, Devon, Canada, Denmark, Poland, Germany, America and even Australia – despite it being around 3am there!).
TO WATCH
You can catch upcoming broadcasts live or watch again existing livestream broadcasts. You can catch all previous livestreams on our social media channels or watch upcoming episodes on our social media channels or
Previous episodes on Facebook
Previous episodes on YouTube
WATCH US LIVE
Watch upcoming episodes LIVE on our webpage
Or on our Facebook page 
Or on our YouTube Channel 
---
"In a time where we're being asked to isolate, the sense of community that we believe the project has achieved feels even more vital. If we can stay connected in some way, then these social interactions will be good for our health in a time when health and wellbeing is likely to be a real challenge to achieve a balance of. The sessions can also remind us that we're not in this alone and we suspect that online virtual sessions may even provide some unexpected benefits that we can't explore in standard rehearsals."

RICHARD SIMPSON, Director of the Voice cLoud