'A CHRISTMAS SPECIAL'
SUNDAY 5th DECEMBER, 2:30pm
---
The Voice cloud in association with The Seagull Theatre are delighted to present a very special live online performance of a festive show created specifically for care settings and residential homes, funded by The Suffolk Community Foundation.
---
'A Christmas Special' is a professional festive musical show which will be performed at the Seagull Theatre and live-streamed in full 1080p high-definition, available to care and residential homes who would like to watch, free of charge!
Following the popularity of our Christmas livestream in December 2020 which was broadcasted into over 170 care homes across England, Ireland, Scotland and Wales, we will be performing a brand-new (for 2021) version of the show on Sunday 5th December at 2.30pm!
Please SIGN UP for this free opportunity if you: work in a care home,
know somebody who works in a care home or have a relative who lives in a care home.
'A Christmas Special' will recreate the atmosphere of the family-viewing TV specials of the 1950s and '60s and promote fun, engagement and reminiscence whilst celebrating the very best Christmas songs and holiday music of this bygone era, featuring such festive classics as 'Have Yourself a Merry Little Christmas', 'White Christmas', 'Chestnuts Roasting on an Open Fire', 'It's Beginning to Look a lot Like Christmas' and 'Santa Claus is Coming to Town' among many others.
---
HOW YOU CAN WATCH THE SHOW
Just submit your details below to receive the private link along with instructions of how to tune in and get the best viewing experience for your residents.
Can't join us to watch live on Sunday 5th December?
No problem… Sign up anyway and we'll send you the link to WATCH AGAIN (this will be available between 6th – 29th December).
---
WHAT HAPPENS NEXT?
We will send out the viewing link and joining instructions on MONDAY 29th NOVEMBER.
If you sign up AFTER this date, we will send you the link and instructions within 24 hours.
If you haven't received within 24 hours, please check your junk folder (spam). If you don't have an email from the Voice cLoud in there, please let us know by email contact@thevoicecloud.co.uk or call 07909 510976 or 07903 105930.
---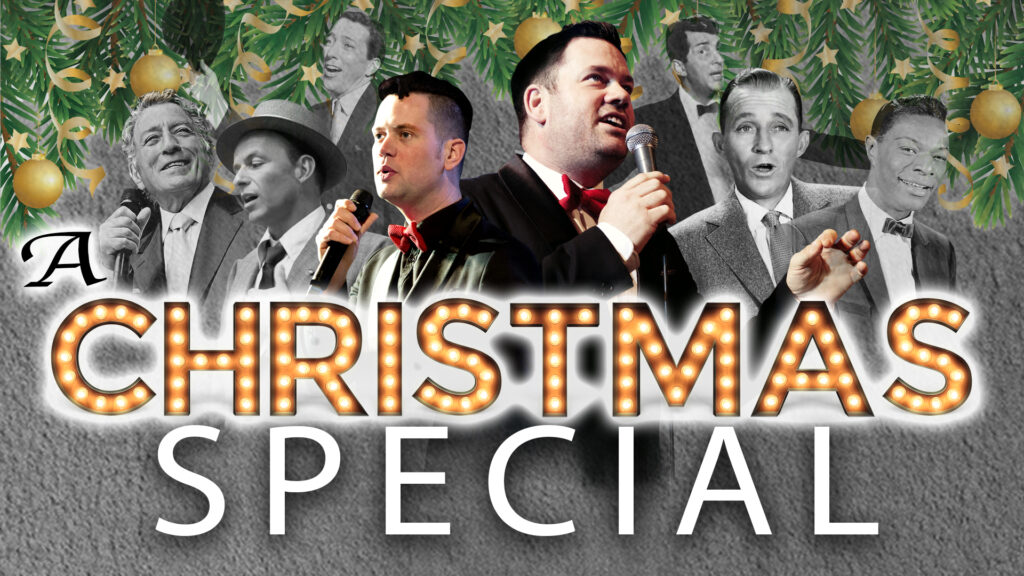 BEST WAY TO ENJOY THE SHOW
Settle your residents in front of their TV in their best Christmas jumpers and festive hats, get comfortable, pass round the mince pies and tune in for this heart-warming show as we take you on a musical journey paying homage to the best singers from the golden age of swing and the big band era including Frank Sinatra, Tony Bennett, Nat King Cole, Andy Williams, Dean Martin, Louis Armstrong, Perry Como, Bing Crosby and Matt Monro to name a few.
WHY NOT SING ALONG?
Even though we won't be able to hear you, we would love you to join in the show by singing along! If you'd like to do this, you can download or print the lyrics by clicking on the green button below (this will be available nearer the time of the performance)
---
RECORD A SHORT GREETING
We know that the past couple of years have had a significant impact on care home residents and staff. Therefore, we are encouraging you to make a video submission – we will then play your video live during our show as a greeting to make their day!
Just ask family members of any of your residents to RECORD A SHORT CHRISTMAS GREETING for their loved one to tell them how much they love them or consider doing it yourself or even mention to residents in case they want to give a special mention to a member of staff!
PLEASE NOTE
• Videos can be recorded on smartphone, tablet or webcam.
• Videos should be no longer than 60 seconds.
• Videos can be submitted by WeTransfer or Google Drive, emailed to contact@thevoicecloud.co.uk or sent by WhatsApp to 07909 510976.
• We are not able to offer technical support to record or submit videos.
• If we are inundated with messages, we are likely to play all messages after the performances finishes.
• There is a strict deadline of Friday 3rd December, 12pm for all video submissions.
---
WATCH THIS EXAMPLE
For an idea of what to aim for with your recording:
---
POST A COMMENT
During the show, we will have a Chat Box available to the side of the screen – you can either leave a comment about the show, post a request for a shout out/mention or chat with other care homes or all three!
Whichever you choose, we'd love to hear from you and know that you are tuning in!
---